Profile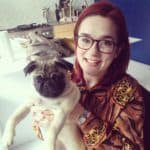 Joanne Duffy
My CV
Education:

Dunshaughlin Community College 2006-2012 and NUI Galway 2012-current

Qualifications:

A hons B.Sc in Microbiology

Work History:

Nightclubs, music shops, hotels, shops, restaurants, and now finally a lab!

Current Job:

I'm a PhD student, so I have a scholarship from the Irish Research Council to work on my research with Dr. Gerard Wall.
About Me

I'm a caffeine addict, a microbiologist and I LOVE dogs.

Read more

In school, I always thought I'd end up doing something related to music and Irish, because I was good at the former and fluent in the latter. But then GO TOBANN in my leaving cert years, I discovered that not only did I love science, I was good at it. Years later, I'm a microbiology graduate working on a PhD in a fancy lab doing fancy science. I genetically engineer microbes to produce a kind of sticky glue that barnacles make in the oceans. In my spare time, I love a good marathon (of Netflix shows) and travelling to interesting cities.

Read more

Evolution has provided some WACKY creatures that do WACKY things. Barnacles are able to stick to just about any surface you can imagine with this really, really sticky glue-like cement, and it works underwater. Rather than trying to grow thousands of barnacles and harvest the glue, I steal the gene for the glue, and shove it into a bacterial species called E. coli. Bacteria, as you know, are really, really small. So I can have billions of bacteria in a small flask, all busy making glue, and I never have to leave the lab.

My Typical Day

I force cells to take up foreign DNA, grow them, check on them, tuck them in at night. Plus lots of reading!

Read more

I do some interesting things to some bacterial cells to make them susceptible to taking up foreign DNA. I mess with the cell membrane (the outer part of the cell) and make it "leaky" so that DNA can get in more easily. Then I use electricity to force foreign DNA inside, and let the cells recover (they've had a hard day). Then I let the cells multiply and take out my product when it's ready!

What I'd do with the prize money

Set up an interactive science fair to showcase all of the brilliant science outreach groups!
My Interview

How would you describe yourself in 3 words?

Short, excited, barnacles.

What did you want to be after you left school?

A scientist!

Were you ever in trouble at school?

Oh yeah. I was ALWAYS talking.

Who is your favourite singer or band?

Led Zeppelin

What's your favourite food?

Cheese

What is the most fun thing you've done?

Rented a boat with my best friend and gone around the canals of Amsterdam.

If you had 3 wishes for yourself what would they be? - be honest!

To be taller, to be better at dancing, and to have a dog.

Tell us a joke.

Why do the Swedish Navy put barcodes on all their ships? So that when they come back, they can Scan-da-navy-in.
Work photos:
My profile link:
https://fluorinen17.imascientist.ie/profile/joanneduffy/
---
---