Profile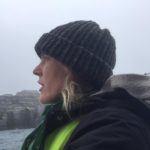 Kathryn Schoenrock
Going diving in Kilkieran Bay! Loads of scallops and fish in those parts.
My CV
Education:

University of California, Santa Cruz and University of Alabama at Birmingham

Qualifications:

BSc, MSc, PhD

Work History:

UAB, Antarctica; University of Glasgow, Greenland; and NUI Galway

Current Job:

Postdoctoral Researcher
About Me

I am a seaweed enthusiast from California, but usually study seaweed in really cold places like Antarctica and Ireland.

Read more

I come from California, Steinbeck country. I think 'Cannery Row' provides the setting for the coast of northern California and what rock-pooling is like there. Surprisingly it is NOT warm- see the link to the beach I grew up on.

Besides science, I love to draw and paint, crochet and quilt, play music and explore.

Favorite movie- Ghostbusters and Monsters Inc are classics

Favorite Book- Might still be Princess Bride, but 20,000 leagues under the sea is a delightful read. A short history of nearly everything is also great- but especially if you like science.

Read more

I think some people are confused when I tell them I study seaweeds like kelp. I used to work with dolphins and sea lions (sea otters too) but one day, while learning how to become a science diver in the kelp forest, I decided to give it all up for the algae (official name of seaweeds). Why you ask? Actually, it's very simple. Algae are so good at fitting in with their surroundings- they are found in so many places other than kelp forests like sea ice, your pool, inside corals, and they produce 50% of the oxygen we breath everyday.

I work in Botany and Plant Sciences at NUI Galway with Dr. Dagmar Stengel. My project looks at which animals choose to live in kelp forests from early on in their lives through to the teenage and adult years. I also study how fast kelps grow, and the age of kelps in each forest to see how often storms and waves might tear up kelps. This lets us know how stable forests are for the animals that live there and how much food the kelps might be providing for those animals.

My Typical Day

Days are spent SCUBA diving, counting animals and kelps, taking photographs, and then bringing kelp back to the lab to inspect it.

Read more

START: cup of coffee

8 AM: cup of coffe

10 AM: First dive- take pictures and count stuff

12 PM: lunch on a grass knoll near the beach (in the rain)

2PM: second dive- take pictures, count stuff and collect some kelp

4 PM: Dry off and drive back to the lab

6 PM: snacks and count kelps and animals in the lab

What I'd do with the prize money

Work on a kelp forest exhibit with the Atlantaquarium in the Galway
My Interview

How would you describe yourself in 3 words?

hardworking, passionate biologist

What did you want to be after you left school?

Marine Biologist

Were you ever in trouble at school?

Yes

Who is your favourite singer or band?

the Beatles

What's your favourite food?

meatballs (albondigas, frikadeller, polpette, keftedes, etc)

What is the most fun thing you've done?

diving with penguins

If you had 3 wishes for yourself what would they be? - be honest!

I wish 1) had more time, 2) I owned a boat, and 3) I lived closer to my family

Tell us a joke.

Whats the difference between a old bus stop and a lady crab?
My profile link:
https://fluorinen17.imascientist.ie/profile/kathrynschoenrock/
---
---